Main content
The Tulameen-Granite Creek ("TGC") project comprises four claims totalling 2808 hectares (28 km2) located 22 km southwest of the town of Princeton and 18 km west of the operating Copper Mountain copper-gold ("Cu/Au") mine in southern British Columbia in an area of abundant road access, nearby electrical transmission facilities and mining infrastructure. The TGC project is targeting orthomagmatic Cu-PGE sulphide mineralization in an Alaskan-type convergent margin setting in the Tulameen Ultramafic Complex ("TUC").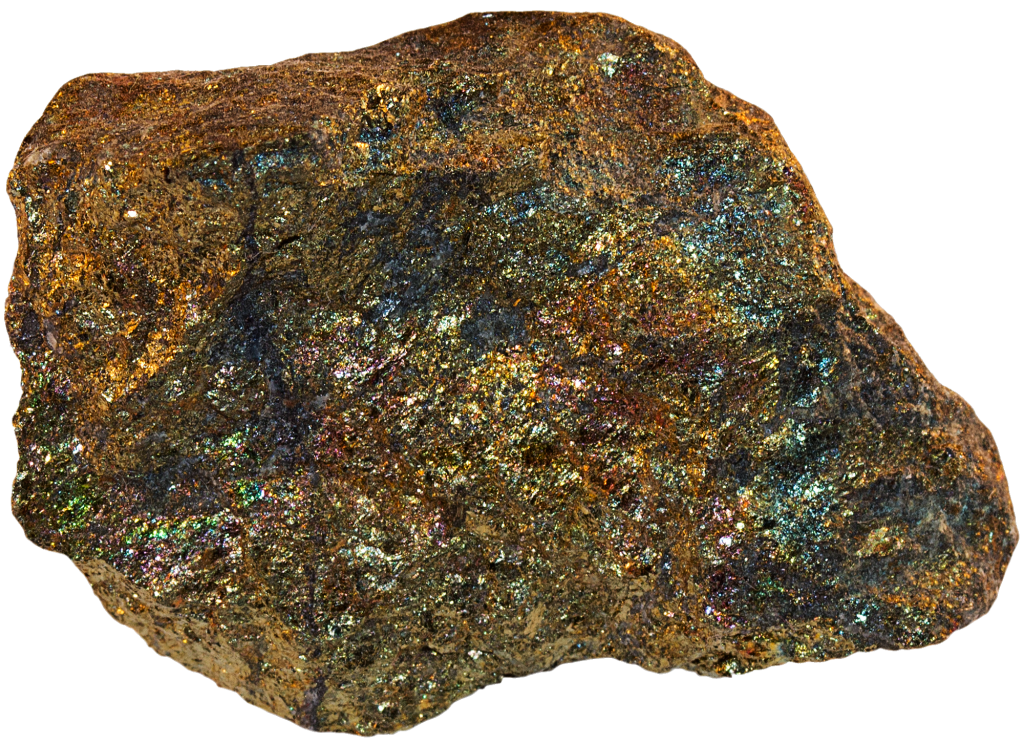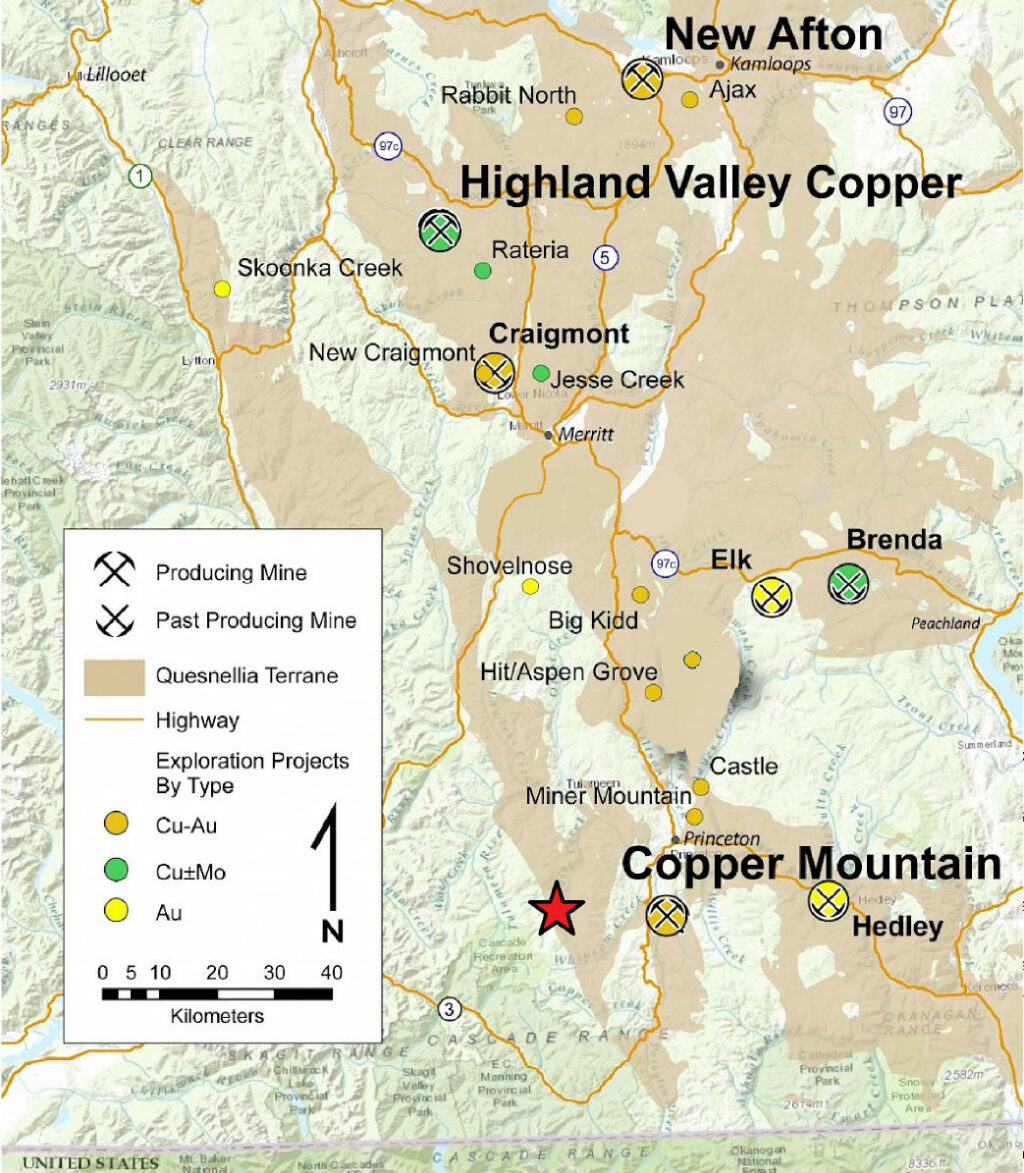 Prior Exploration of the Tulameen Ultra-Mafic Complex
The TUC is the largest known ultramafic complex in North America, covering more than 64 km2. At the turn of the 20th century, the Tulameen area was historically known as a major placer platinum producer with the TUC recognized as the bedrock source for these placer Pt deposits.
Exploration work by major and junior mining companies has historically focused on the potential bedrock sources for platinum, palladium, copper and iron deposits hosted within a wide variety of ultramafic units within the TUC. In other regions, such as the Aguablanca deposit, Spain (15.7 Mt of 0.66% Ni; 046% Cu) or the Selabi-Phikwe deposit, Botswana (31 Mt of 1.36% Ni and 1.12% Cu), significant new economic Cu-Ni-PGE deposits have been discovered in convergent margin type tectonic environments.
Locally, the past-producing Giant Mascot mine, located some 57 km WNW of the TGC project was mined from 1958 to 1974 and produced ~4.2 Mt of ore grading 0.77%Ni and 0.34% Cu from a series of 28 subvertical, pipe-like lensoids and tabular bodies interpreted to represent mineralized conduits within a 3 x 2 km plug of ultramafic arc cumulates that intruded a dioritic pluton. Within each lensoid, zonation of massive sulfides is observed (Manor et al. 2016).
In 2008 a Fugro helicopter-borne frequency-domain electromagnetic ("EM") survey identified a strong, 1.2-kilometer strike-length EM conductor along the western border of the Tulameen ultramafic complex that is interpreted to be a possible massive sulfide target. One of the highest stream sediment cobalt samples (660 ppm) reported in the entire RGS stream sediment database for British Columbia (~45,000 sample sites) was collected 75 meters downstream from the EM target on the TGC project.
The EM anomaly is located along the northeastern edge of a 1-2 kilometer wide, northwest trending mega-shear zone (the "Eagle Shear") mapped between the Tulameen ultramafic complex and the Eagle Tonalite Gneiss complex. The northwestern and southeastern strike extents of the EM anomaly are bounded by deep-crustal, northeast trending faults, which are known to carry mineralization (examples- Whipsaw Creek and Granite Creek faults).
Subsequent prospecting in 2020 along the axis of these conductors revealed well-mineralized hornblende magnetite clinopyroxenite float containing orthomagmatic chalcopyrite with one specimen assaying 0.51% Cu, 0.619 g/t Pt and 0.800 g/t Pd. The southern 1,882 hectares of TGC has never been explored by any systematic stream sediment/soil geochemistry, prospecting or mapping program.
2021 Pacific Imperial Exploration Activities at TGC
B-Horizon Soil Sample Results
The Company obtained positive results from its B-Horizon soil geochemistry survey conducted over two EM anomalies detected in the 2008 Fugro EM survey. A total of 400 soils were collected during the 2021 field season, with 243 B-horizon soil samples collected along a 25m x 200m spaced grid which covered the two EM anomalies over a 1-kilometer strike length. Anomalous B-Horizon soil copper values (90th to 95th percentile) that range from 100-262 ppm Cu coincide with the axis of the conductors as well as the location of mineralized float (Figure 2).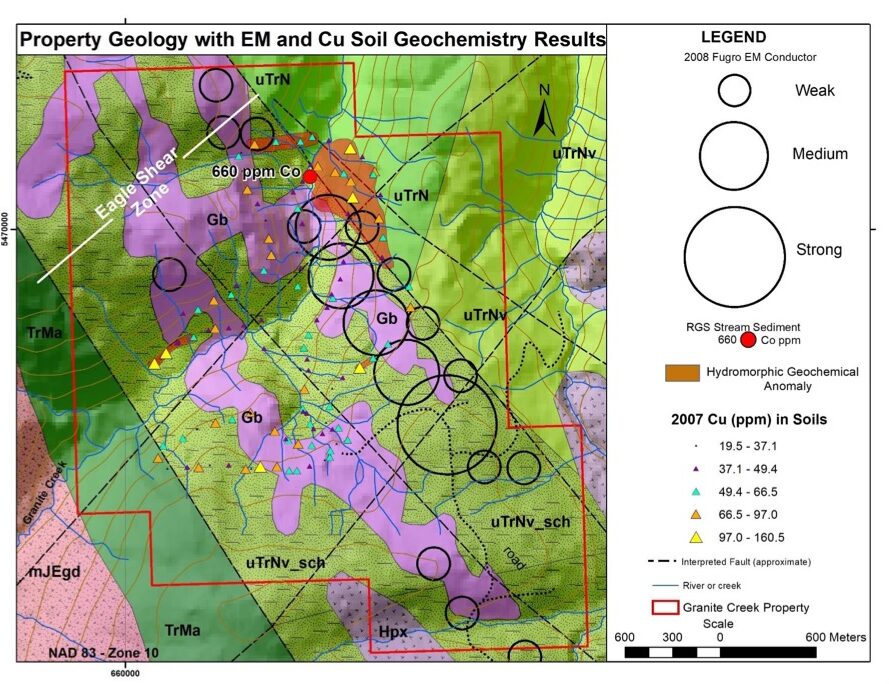 Ground TDEM and Magnetic Survey
SJ Geophysics covered the same soil grid with ground magnetics as well as a Volterra TDEM survey with fixed loop surface EM data acquired along six survey lines utilizing three loops. For the magnetometer survey, two GEM GSM-19W Overhauser magnetometers were utilized as rovers while one GEM GSM-19T Proton Procession magnetometer was setup as a base station to record diurnal variations in the magnetic field.
The EM and magnetic surveys indicated that there is a major conductor trending across the central portion of the local grid and a much weaker secondary feature trending along the eastern margin of the grid.
A compilation map (Figure 3) provides the location of the main and secondary TDEM conductors, ground magnetics, and interpreted geology in relation to the 90th-95th percentile B-Horizon copper in soil values overlying and flanking the axis of the main and secondary TDEM anomalies. The locations of the first six proposed initial drill holes are also noted on this Figure.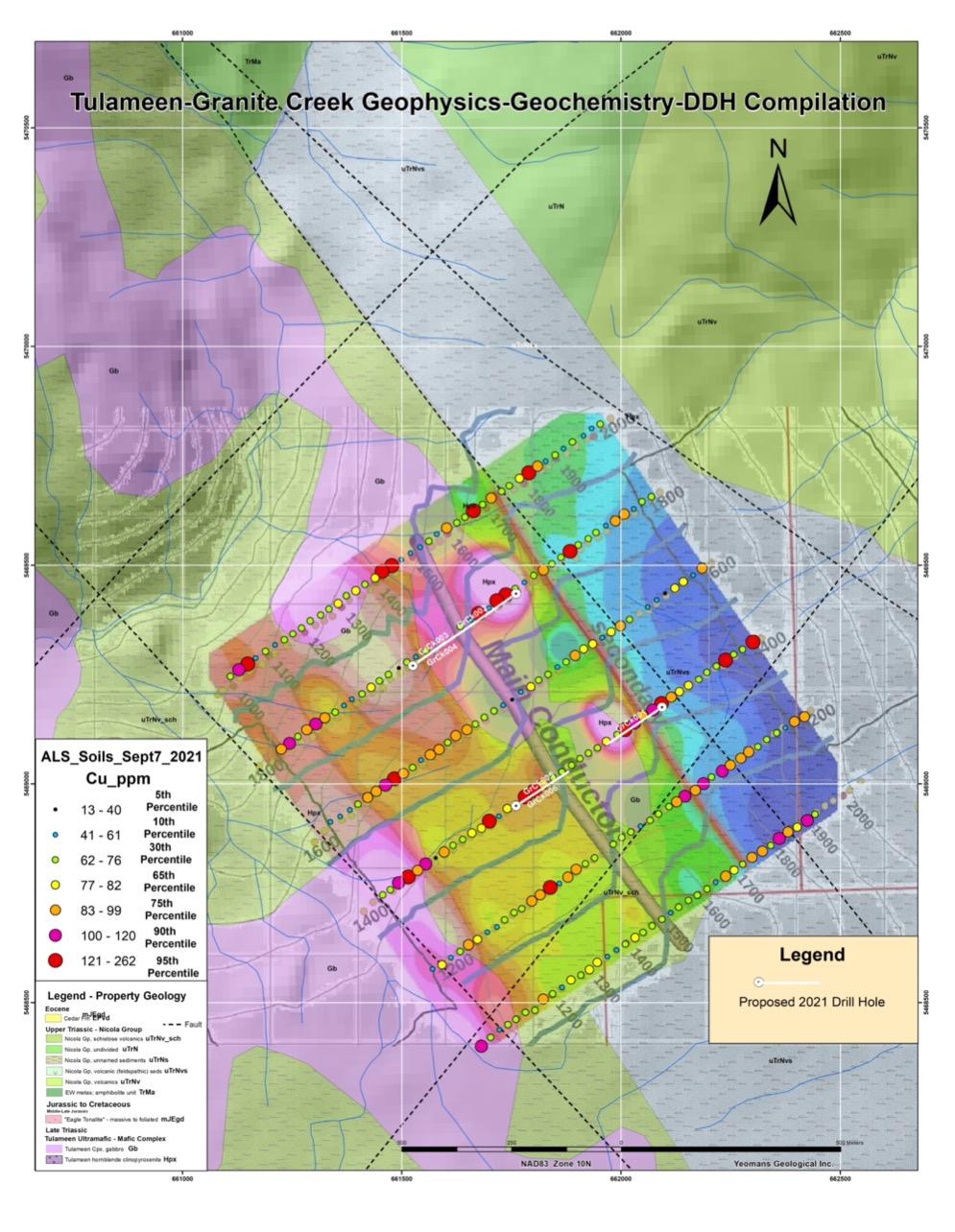 2022 Drill Program
The 2022 drill program of up to 500 m will test the two TDEM conductors where there is a strong correlation between the conductor axis and overlying anomalous copper in B-Horizon soil values. The drilling will test for bedrock mineralization similar to the orthomagmatic Cu-Pd-Pt mineralization identified in float overlying the main conductor. Excellent logging road access and an indoor core logging and cutting facility in Princeton will allow drilling to take place during the early summer.
Qualified Person
Leo King, P.Geo. is the Technical Advisor and Qualified Person as defined by National Instrument 43-101 who has reviewed and approved the above technical information.